Korean American Historical Society presents Explore Korea! at the Shoreline Arts Festival, June 23-24. The room will feature displays of pottery, ceremonial clothing, folk paintings, and a Korean American history timeline.
There will be arts and crafts workshops on Korean paper folding by Korean-American Art & Cultural Association of Pacific Northwest, totem poles (jangseung), and hacky sacks (jaegi). Visitors can watch traditional ink painting, have their names written during the calligraphy demonstration or watch the tea ceremony by Asia Pacific Cultural Center, and later try some tea and rice cakes.
In addition to music performances by Morning Star Korean Cultural Center and Mansung Samulnori, there will be two Korean drumming workshops each day by Peter Park, a Phd Ethnomusicology candidate at the UW School of Music, and instructor for Edmonds School District's Summer Music School Korean Drumming elective.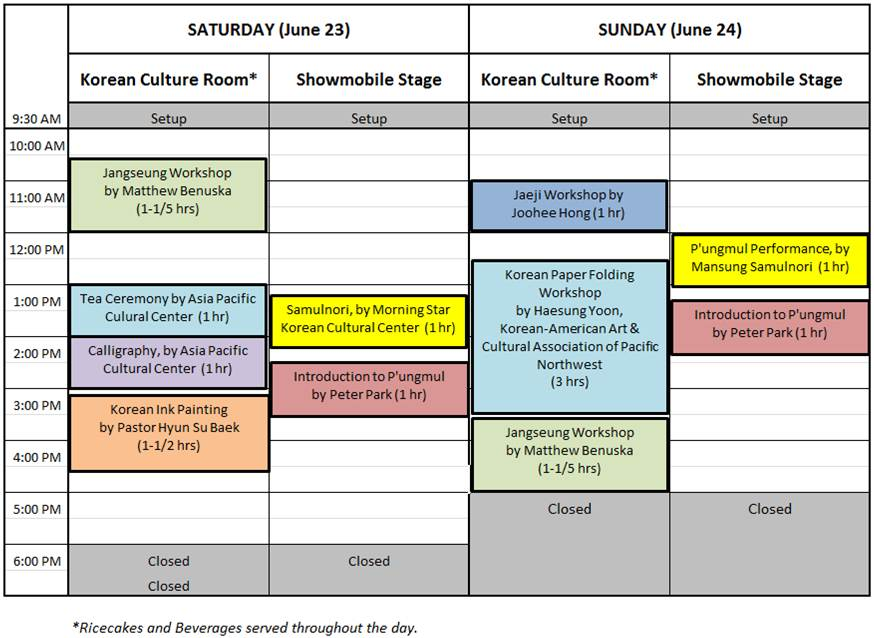 We are grateful for the financial support of the following organizations: The City of Shoreline; Sound Transit; Consulate General of the Republic of Korea in Seattle; Korean American Coalition of Washington State.