Korean American Historical Society teams up with United Seattle and Bellevue Korean School to present "Where's Gangnam?" at the 23rd Annual Shoreline Arts Festival, June 29-30. The room will feature Arts and Crafts workshops, as well as displays of folk paintings, masks, and information about Korea and Korean American history.
Afterwards, try some Korean desserts! We have locally made fresh rice cakes (ddeok) with sweet rice (shikhoe) and cinamon (sujeonghwa) beverages.
Arts and Crafts
On Saturday, make Spirit Poles (jangseung), see a demonstration of ink painting with brush calligraphy by award-winning local master Rev. Hyun Su Baek, and a book reading by local Korean-Brazilian author Larissa Min.
On Sunday, make paper lanterns! Haesung Yoon, president of the Korean-American Art & Cultural Association of Pacific Northwest returns to lead a paper lantern folding (jeongi jeobki) workshop. This workshop was so popular last year, it ran longer than expected until we ran out of paper!
On both days, United Seattle and Bellevue Korean School will have Korean flags for you to color, and you can practice writing your name in Korean!
Performances
On Saturday, Seattle composers Jessika Kenney and Eyvind Kang meet Korean electro-acoustic artist Hyeonhee Park for an innovative distillation of traditional and experimental musics.
On Sunday, we will present the K-POP Variety Hour with a demonstration by Master Cho's Tae Kwon Do team and local artists (Radio Hankook's K-POP Grand Prize winners Tony Delgado and Tori Quan, with Hanna Cho and dance team SASe) and Korean talent 2SOP!
Lastly, Have fun learning to play Korean drums and gongs with Peter Joon Park. The lively music and dance of Korean p'ungmul (percussion) ensembles are often featured in community festivals, creating a vibrant atmosphere of energetic rhythms. The workshop is open to people of all ages and no previous experience is needed.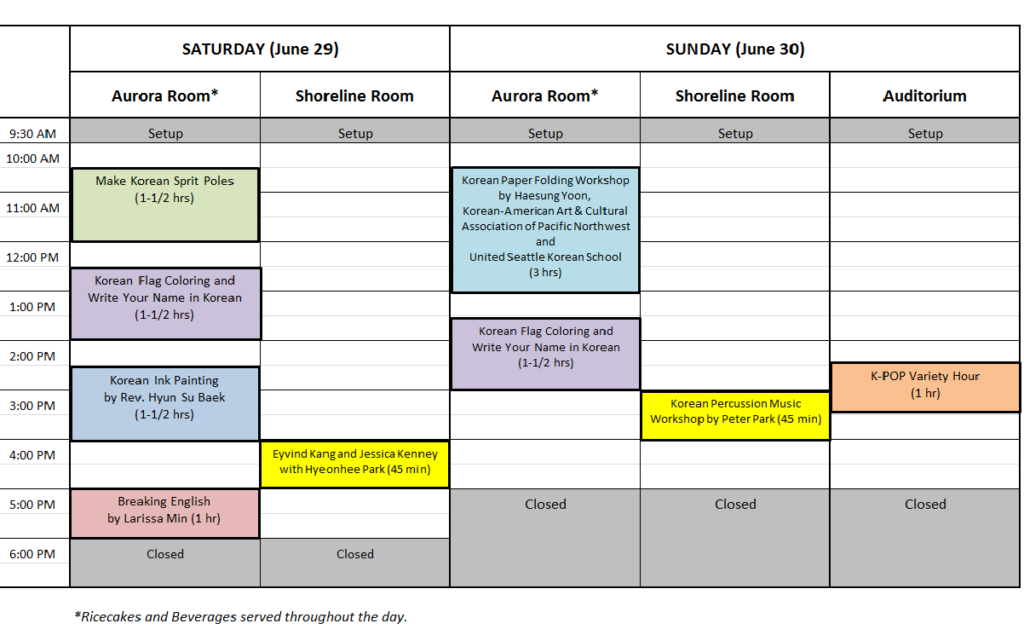 We are grateful for the financial support of the following organizations: Sound Transit; Consulate General of the Republic of Korea in Seattle; A+Academy; United Seattle Bellevue Korean School; Seattle-Washington State Korean Association; Korean American Health Professionals Association; Korean American Coalition of Washington State; The Wing Luke Museum of the Asian Pacific American Experience.