2014 – Korean American Historical Society teams up with United Seattle and Bellevue Korean School to present "Explore Korea" at the 24th Annual Shoreline Arts Festival, June 28-29. The room will feature Arts and Crafts workshops, as well as displays of folk paintings, masks, and information about Korea and Korean American history.
Afterwards, try some Korean desserts! We have locally made fresh rice cakes (ddeok) with sweet rice (shikhoe) and cinamon (sujeonghwa) beverages.
Arts and Crafts
On Saturday, make Spirit Poles (jangseung) with Matthew Benuska, of KAHS.
On both days, learn to play the strategy game Baduk, courtesy of the Seattle Go Center. We will also teach how to write your name in Korean and have Korean flags for the kids to color.
Performances
On Saturday, we will present songs and dances at the K-POP Variety Show at 4pm, followed by Oolleemm, the Korean Traditional Performing Arts group at 5pm.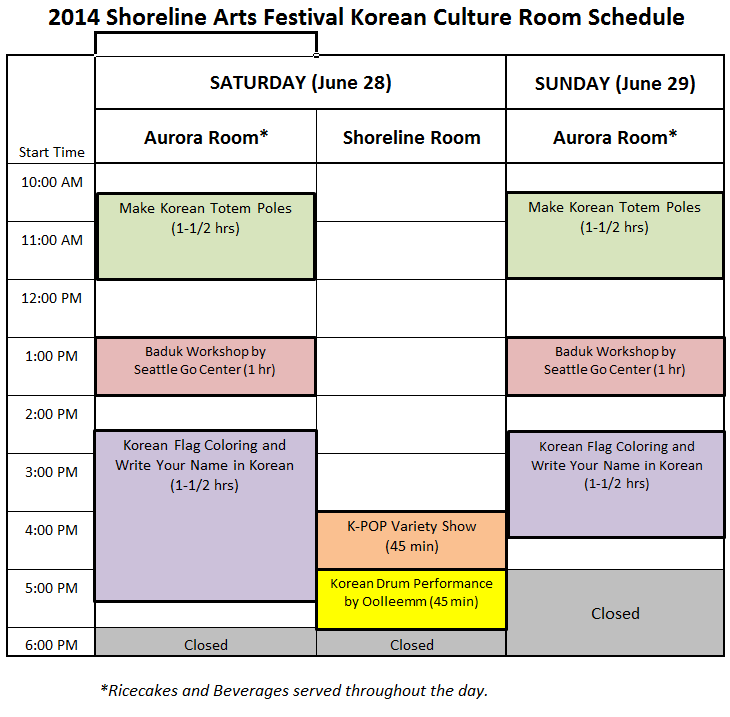 We are grateful for the financial support of the following organizations: Shoreline Lake Forest Park Arts Council; Consulate General of the Republic of Korea in Seattle; A+Academy; United Seattle Bellevue Korean School; Seattle-Washington State Korean Association; Korean American Health Professionals Association; Korean American Coalition of Washington State.